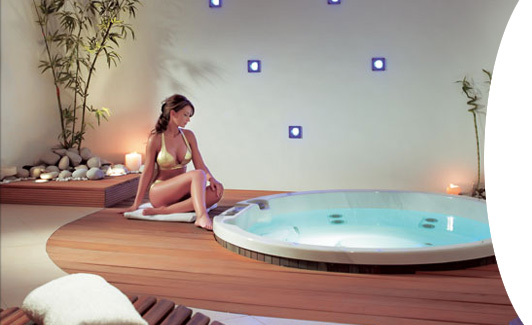 Iseo
The Iseo is the the traditional shape of the Scandinavian hot tub, measuring 1.98m diameter x 0.92m. This very attractive tub boasts 27 hydrotherapy jets powered by a 2 speed 2hp pump and seats 5 people. A fun looking tub and a great party spa


Roma/Roma Deluxe
The Roma and Roma Deluxe come with 3 seats including a lounger. with 1 pump, 2 speed, and a choice of 18 (Roma) or 30 (Roma Deluxe) jets, this is an ideal spa for couples or a small family


Apulia
Apulia For the garden where space is limited our Apulia spa is the ideal choice. With 4 seats and 18 jets and the most competitively priced spa in our range, the Apulia would be a perfect "first time" spa.


Como/Como Deluxe
For something a little different to a conventional looking spa, why not opt for our Como or Como Deluxe. The triangular shape of these spas makes for an interesting feature in the garden. With 3 seats and a choice of 17 (Como) or 27 (Deluxe) jets and a 2hp 2 speed pump this spa is sure to be a winner.


Alassio/Alassio Deluxe
For eye appeal and performance this spa is a perfect choice. The Alassio spa sports attractive lines that are inviting to the spa user who is looking for the comfort of relaxation and hydrotherapy. Designed to easily accommodate 7 people, they come with an option of 26 (Alassio) or 46 (Deluxe) jets and 1 or 2 speed pumps.


Capri/Capri Deluxe
This spa is designed to easily accommodate 6 people. Featuring a lounger seat it has the perfect seating combination to suit all tastes. Measuring 2.08m x 2.08m x 0.98m this spa is available in 26 (Capri) or 46 (Deluxe) jet model with 1 or 2 pumps depending on model.


Sienna/Sienna Deluxe
One of the top spas in the Emerald Seas collection the Sienna spas are tailor made for the discerning client. Providing the ultimate in comfort, styling and hydrotherapy massage this spa comes in a choice of 32 or 48 jets, 1 or 2 pumps and comfortably seats 7 people.


Lugano/Lugano Deluxe
Another top class spa. the Lugano's both feature 6 seats including a lounger, for those of you who like to lie back and relax while the bubbles work their magic. The Lugano Deluxe has a fantastic 48 jets and 2 pumps with the Lugano featuring 32 jets and a 2 speed 2 hp pump.


Registered Company