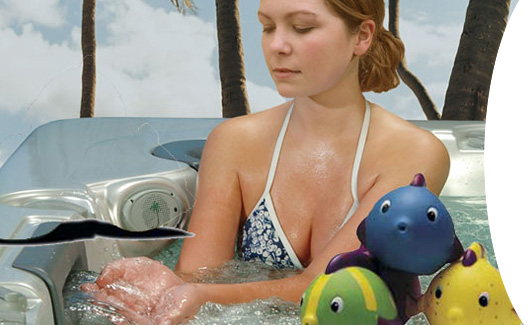 Optional Extras
Spa steps make getting into your spa a lot easier, whilst the cover-lifter does all the hard work for you when it comes to the removal and replacement of your spa cover.


We have several different types of spa cleaning equipment. The Spa Skim and Spa Scoop are really handy nets that fish out any debris that you may find in your spa. The "Scrubby Frogs" don't just look cute - they do serve a purpose! These bright, fun little frogs are combined with a non-abrasive scourer to help keep your spa surface clean.


To add some extra fun into the spa, we have lots of toys and games in our extensive accessories brochure. These plastic playing cards are a great way to spend some quality time together in your hot-tub. The Spa Bar is a fabulous idea for everyday use or parties, the 28" diameter inflatable spa is an attractive and convenient way to serve everyone's favourite drinks and snacks. We also stock spa-proof drinksware and plates.


With a huge 3.5m span (approx 11'6") the Easy Sun Parasol will provide shade for your spa, patio or deck during the hot summer days. Simple and easy to operate, the unique extend and tilt mechanism will put the shade where you want it. Choose from Blue, Green or Grey canopy. Also, we sell the very useful "Aqua Tray" - a convenient spa side table for all those bits and pieces. Adjustable leg width allows it to fit on most models of spa.


With a weighted back to hold it in place, this lightweight, slim pillow can be placed almost anywhere around the spa to aid comfort and relaxation. Choice of grey or black. Also above is the very popular "Underwater Light Show" - a disco ball for your pool or spa which creates a whole new night-time experience and spectacal. Projects exciting, variable light patterns into the bottom and sides of your pool.

Registered Company